Best Women's Fragrances: Top 10 Perfumes for Women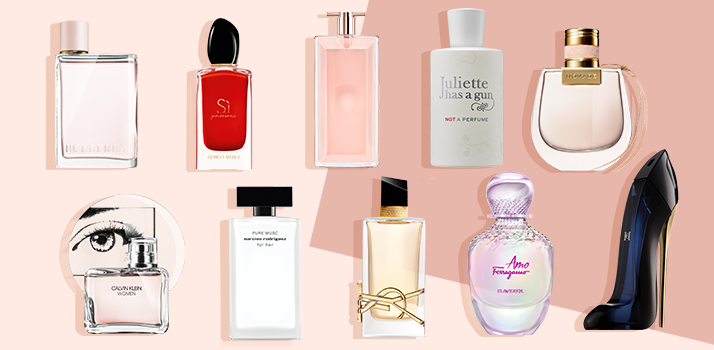 One of the biggest fashion icons and designers Coco Chanel once said about perfumes: "It is the unseen, unforgettable, ultimate accessory of fashion that heralds your arrival and prolongs your departure." Let's get some inspiration and take a look at the best fragrances for women!
Giorgio Armani Sì Passione
This is a fragrance that you can't say "no" to. It lets everyone know just how sensual and passionate you are. The fruity-floral Sì Passione perfectly emphasises your natural charm. Fruit notes like blackcurrant and pear blend with warm vanilla, delicate rose petals, jasmine, and unusual heliotrope. This fragrance will enchant people around you at any occasion. 
Lancôme Idôle
Idôle is a clean floral fragrance with chypre elements, which was designed for the new generation of women. The thinnest perfume bottle in the world was inspired by the iPhone, making it a really trendy piece. Just don't mix them up in your bag! This floral symphony is based on two kinds of rose and a rose essence. The bottle is also refillable, which makes Idôle a sustainable fragrance. 
Yves Saint Laurent Libre
Can you smell the freedom? It's Libre, designed for rebels who aren't afraid to go against the flow and use a fragrance based on lavender which used to be considered a typically masculine essence. All it takes is adding orange blossom, vanilla, tangerine, and amber with neroli, and voilà! You've got a very feminine, seductive fragrance for special occasions.
Chloé Nomade
All adventurous types who can't stay at one place for a long time or who have succumbed to the alluring trend of being a digital nomad, can take Chloé Nomade with them on their trips. Every experience is even more exciting when you smell wonderful! The refreshing aroma contains the characteristic oakmoss with intoxicating yellow plum and seductive freesia. The bottle shaped like a woman's handbag proves that this fragrance was designed for women who love to travel.
Burberry Her
The Burberry Her perfume for women was inspired by London – but don't worry, you won't smell of fish & chips, the London tube, or Beefeater gin. It's an expression of the energetic cosmopolitan spirit of this big city. A walk through a fruit garden with blackcurrant, raspberries, blackberries and citruses leads to a floral heart with jasmine and violet. The warm drydown contains amber and woody notes. The face of this fragrance is the famous model Cara Delevingne, representing here her home town.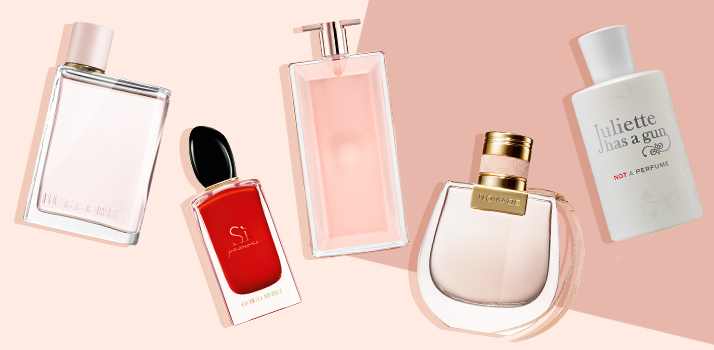 Calvin Klein Women
The iconic bottle with an eye symbolises the power of a woman's look. After all, men could tell stories about its magic. Calvin Klein Women is based on the belief that all women are beautiful, strong, and unique. Still, there's no harm in adding a nice fragrance, too! Refreshing notes of eucalyptus, citruses, and black pepper are followed by a floral heart. Finally, amber and cedar wood give the fragrance more warmth and depth. In short, this is really one of the best women's fragrances of 2019.
Narciso Rodriguez For Her Pure Musc
There is power in simplicity. You expect your fragrance to blend with your skin and give you a subtle, elegant hint of scent all day long. The For Her Pure Musc fragrance for women will become your second skin. Intoxicating white flowers are blended with the warm accords of patchouli and amber. Another take on the best fragrance for women! 
Juliette Has a Gun Not a Perfume
If you believe that less is often more and you definitely don't want to smell like everyone else, we have something special for you! With the delicate, subtle, hypoallergenic aroma of this perfume, you don't have to worry about suffocating everyone in your open-space office with a cloud of fragrance. The composition of Not a Perfume consists of only one note – Cetalox, which closely resembles amber. The result is minimalist, elegant, and very clean. 
Salvatore Ferragamo Amo Ferragamo Flowerful
Not a big fan of autumn and winter? Do you feel like migrating with the birds to some tropical location as soon as the temperature starts dropping?  The Amo Ferragamo Flowerful will transport you to a summer meadow full of blooming flowers and fruit trees. Ingredients such as blackcurrant, jasmine, plum blossom, peony, and vanilla orchid will awaken your joie de vivre and your optimism, even when you have to wait months for the next warm day. 
Carolina Herrera Good Girl
Will you be a good or a naughty girl today? It's all up to you! This iconic bottle shaped like a golden stiletto heel hides a combination of traditional and innovative ingredients that seem to reflect both the good and the bad side of every woman. In the Good Girl, refreshing jasmine and rare tuberose are wrapped into the warm gourmand notes of cocoa and tonka bean.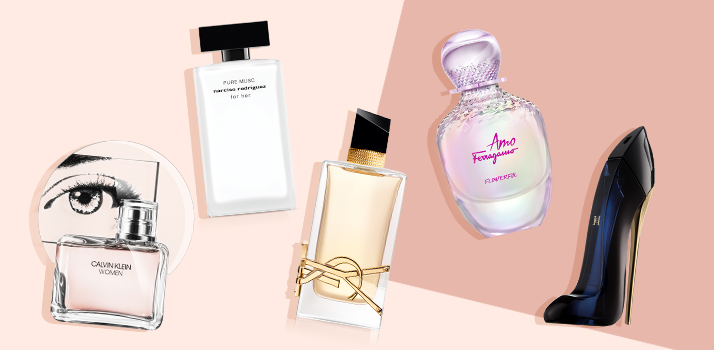 And what is your favourite women's fragrance? Tell us about your faves!
Author: Markéta