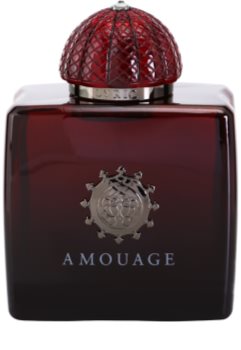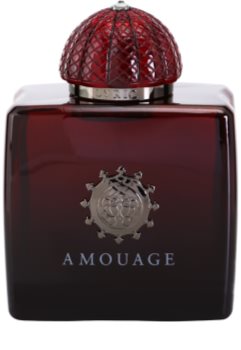 Choose a free gift out of 12 great options in your shopping basket with purchase over 350 DKK.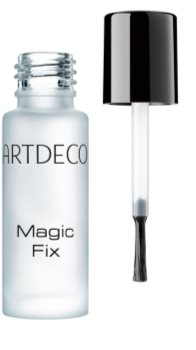 Fragrance description

Amouage Lyric
Amouage Lyric is an oriental floral fragrance for women with a strong spicy character from an independent luxury brand of niche perfumes based in London, which is inspired by the rich and varied heritage of its place of origin, the Sultanate of Oman. Lyric perfectly captures femininity, strength and passion and is, like all fragrances made by Amouage, uniquely inspiring.
Lyric by Amouage brings a completely new approach to the use of the aroma of roses in perfume-making. It employs this traditional note of the queen of flowers in a truly unique way: Spicy and resinous, Amouage Lyric is an oriental, rich and intricately complex approach to the rose. The spicy character of the composition becomes apparent from the very first moment. The head binds together refreshing accords of bergamot with spicy ginger, contrasted with the warm velvety notes of cardamom and cinnamon. In the heart, you will encounter the royal crimson rose surrounded by an entourage of creamy and wealthy accords of ylang-ylang and jasmine and iris root. Fiery geraniums provide a spicy edge to the heart, while angelica surrenders its fresh sweetness. The deep, sensual finish comes with accords of oakmoss, musk, patchouli, vetiver, tonka beans, incense, vanilla and sandalwood, accompanied by other woody notes.
The full aroma of Lyric, floral in structure but darkly intense and modern in ways that are very unusual in this type of fragrance, uniquely marries rose to elements that are warm, spicy, woody, balsamic and aromatic. According to the creators of Amouage Lyric, "the fleeting beauty and clarity of this fragrance sings a lasting spicy ode without beginning or end. Inspired by the rose, Lyric is a floral oriental fragrance suspended in time and with a mythical melody."
The supremely original Amouage Lyric, with its specific femininity full of strength and passion, is suitable for day and evening wear throughout the year. It will never fail to make its wearer feel truly unique and stand out from the crowd. Lyric will be particularly appreciated by women who enjoy a very original approach to the scent of roses in an oriental spirit with a distinctive spicy touch.
Besides the arresting fragrances, which are the result of a manufacturing process meeting the strictest standards of quality, all the perfumes made by Amouage also stand out with their luxurious packaging. The Lyric bottle, in gorgeous deep red, excites with its elegant, sleek and sumptuous design. The packaging is completed by a subtly sophisticated box with a rose motif. Try a fragrance from a highly original brand and fall in love with its unique and remarkably successful interpretation of the scent of roses.
Amouage Lyric – the scent of roses in an original composition that beautifully captures femininity, strength and passion.  
Ingredients
Bergamot, Cardamom, Cinnamon, Ginger

Angelica, Iris Root, Jasmine, Rose, Ylang-Ylang

Frankincense, Musk, Oakmoss, Patchouli, Sandalwood, Tonka Beans, Vanilla, Vetiver, Woody Notes

Fragrance category

floral, oriental
The sumptuous scent of Amouage is characterised by its uniqueness and its totally distinctive elegance. The independent brand with luxury niche perfumes now has its headquarters in London, but its roots reach into the depths of the Middle East.
Amouage draws inspiration from the rich and varied heritage of its place of origin – the Sultanate of Oman. The brand was founded in 1983 by His Excellency Sayyid Hamad bin Hamoud Al Busaidi, a member of the Omani royal family, on the basis of his decision to revive the glory of Arabian fragrances. The brand's philosophy is to create perfumes with truly artistic value. Amouage strictly selects only the finest exotic ingredients, including silver incense from Oman, the unique Oman rose and myrrh.
Amouage's niche perfumes are put together in Grasse, Southern France, which is considered the global capital of perfumes, thus providing a guarantee of the highest standards. The perfumes then travel to Oman for production, where the maceration of the ingredients takes about two months. To finish, all the Amouage perfumes undergo the highest quality checks and are packaged almost exclusively by hand.
This product has not yet been rated, be the first!