Eisenberg
Back to Paris
Eau de Parfum til kvinder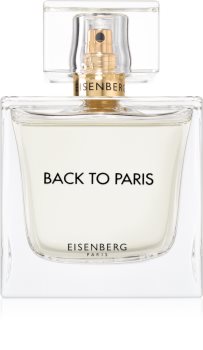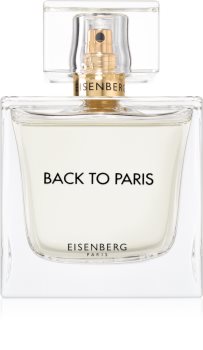 Gave til dig
Take advantage of free delivery on all orders!
Duftbeskrivelse

Eisenberg Back to Paris

Ingredienser
Tillad dig selv en duft, der vil få alle til at se dig i ethvert selskab. Eau de parfumen til kvinder Eisenberg Back to Paris er indbegrebet af luksus og eksklusivitet, og dens eksklusive duftsammensætning vil glæde selv de mest krævende.
orientalsk duft
blomsterduft
understreger enhver kvindes sensualitet
velegnet duft til hverdagsbrug
Ingredienser
Topnoter - De udvikler sig lige efter, du tager duften på. De skaber det første indtryk og er normalt ret intense, men ikke langvarende.

Top notes

Bergamot, Solbær , Mandarin, Rosépeber, Rabarber

Mellemnoter - Kernen af duften kommer frem efter et par minutter, når hovedduften fortager sig. Disse noter holder omkring 2 til 3 timer.

Middle notes

Iris, Rose, Jasmin, Viol

Basisnoter - Den sidste og ofte længstvarende del af duftens udvikling på din hud. Holder alt fra 4 timer til mere end en dag.

Base notes

Patchouli, Sandeltræ, Vanilje, Moskus, Cedertræ, Tonkabønner

Parfumekategori

blomstret, træagtig
Anmeldelse

Eisenberg Back to Paris

10