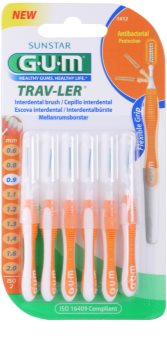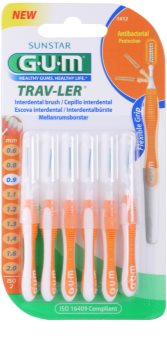 Product description

About the brand

Review
Product description

G.U.M Trav-Ler
The G.U.M Trav-Ler interdental brush is an integral part of dental hygiene. It can get to those hard-to-reach places, preventing tooth decay.
Characteristics:
ensures prevention of periodontal disease
provides perfect cleaning of the interdental spaces
does not irritate and does not damage the teeth or gums
How to use:
Insert the brush into the interdental spaces and clean by moving back and forth.
p>G.U.M. is the oldest and most complex oral care brand. It is owned by SUNSTAR, the leading global company in oral hygiene, which was founded in 1932. Sunstar, which also works in body care, the environment, and cutting-edge technologies alongside dental hygiene, aims to help people regain and maintain their health and improve their quality of life.
That is why it is examining possible links between gum disease and other serious diseases, such as cardiovascular disease and diabetes, and is developing top-class clinically proven products for total oral hygiene. This is always done in collaboration with dental professionals and based on knowledge of the latest research from around the world.
All G.U.M. branded products not only help you to have a healthy mouth and clean, beautiful teeth and fresh breath, they also prevent oral bacteria from spreading throughout the body via the bloodstream through targeted treatment, protecting you from the risk of serious health problems. The G.U.M. motto is: "Take care of your mouth and you'll take care of your overall health."