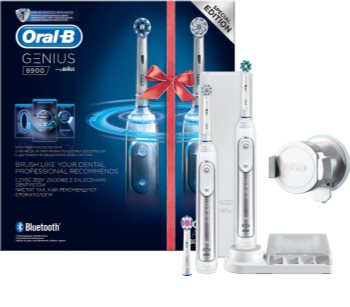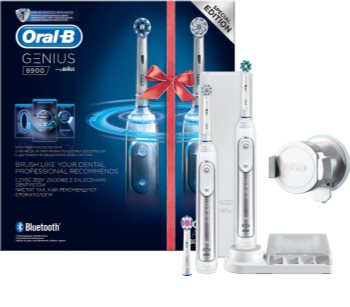 Code:

ORB1705
|
In stock
Can be used with all Oral B handles with the exception of Pulsonic model.
Product description

Oral B Genius 8900 D701.535.5HXC
Description:
The limited edition Oral B Genius 8900 electric toothbrush stands out with its active 3D technology, which means it removes dental plaque and other dirt even from hard-to-reach places. The brush has soft and branched bristles that are bevelled at an angle of 16 degrees so they can get around each tooth easily. Thanks to its 40,000 pulses and 8880 vibrations per minute, the Genius 8900 toothbrush destroys even the most resistant bacteria.
The Oral B Genius 8900 toothbrush is equipped with Bluetooth technology. You can download the application to your mobile phone to get information about the best way to clean your teeth and improve your habits. Innovative technology to detect the position of the toothbrush prevents you from missing a spot.
The triple sensor helps you determine the right pressure on your gums. It detects if you put too much pressure on your gums and automatically slows the pulse down. The automatic built-in timer alerts you to the correct cleaning time for your teeth.
Properties:
cleans effectively with dynamic 3D technology
whitens teeth and helps remove stains
measures the pressure on your gums
detects the position of the brush
equipped with Bluetooth technology
has a high-quality lithium-ion battery
User's guide can be found HERE.
Characteristics
Type of power supply

rechargeable
Oral B represents quality and premium care in dental hygiene. Oral B products are known for their top quality, which guarantees great results in your dental and oral care. A high-quality toothbrush or dental floss is the best way to get on track for a beautiful, healthy smile.
The founder of the brand is the Californian dentist Robert Huston, who, back in 1950, was the very first person to replace the traditional hard nylon toothbrush bristles in use since 1938 with gentle, rounded bristles. This became a worldwide phenomenon and the Oral B brand became a market leader in its field.
Today, Oral B is synonymous with quality dental care. The Oral B electric toothbrush does not just clean your teeth thoroughly, it also massages your gums, which has a beneficial effect. If you want to prevent cavities, have healthy gums and a mouth that feels truly clean and fresh, an Oral B brush is the right choice.
Review

Oral B Genius 8900 D701.535.5HXC